IB Thermal, 15th June: CSR Unit of OPGC, in collaboration with Infrastructure Leasing & Financial Services Limited (IL&FS), organized consultative meetings at village Banharpali and Adhapada on 11th & 12th June, 13 . The objective of the meetings was to assess the needs and expectations of the local youth and provide them with suitable job-oriented training through the facilities offered by IL&FS. IL&FS, promoted by the Central Bank of India (CBI), Housing Development Finance Corporation Limited (HDFC) and Unit Trust of India (UTI), is one of India's leading infrastructure development and finance companies.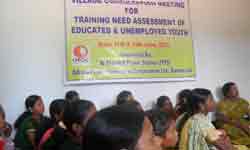 More than 200 boys & girls aged between 18-30 participated in the inaugural consultative meeting held at Banharpali village . Representatives of IL&FS and gave brief introduction about their organization, their mandate, objectives and various placement-linked training programmes. They shared details of their training programmes like Sewing Machine Operation (SMO), Hospitality Management (Stewardship, House-keeping, and Food Production), Electrician and Welding. All training programmes are short-term in nature varying from 1-2 months and they have tied-up with reputed agencies for placement. A good number of people including women expressed their interest and willingness to learn more about the said programme and appreciated the efforts made by OPGC for bringing such an opportunity to their door-step. Interested persons were asked to enlist their name for further enquiry and counseling.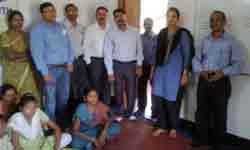 In the afternoon at around 4:00 p.m, the second meeting was organized at Village Adhapada. Officials from IL&FS showed a documentary titled 'Sakambari' featuring success story of a poor young girl from Ganjam district who took-up 'Sewing Machine Operator' training and later employed in a garment industry in Kerala. Officials of IL&FS gave a vivid description of their training programmes, placement options, benefits & other facilities like Provident Fund (PF), ESI, etc. Girls from Adhapada and adjoining villages enthusiastically participated in the meeting and enquired about the 'Stitching Machine Operator' training programme.

On 12th June, 13 a consultation meeting was held specifically for the adolescent girls of periphery villages who have completed their tailoring training from the skill development and vocational training centre of OPGC. About 25 girls from village Banharpali, Baragad, Telenpali, Bhutia, Kantajharia participated in the meeting. Both OPGC and IL&FS officials interacted with them and showed short films based on successful individual stories, training institute, facilities available, processes in selection of candidates, training, job environment, working conditions etc. The girls raised their queries and doubts which were addressed by the representatives of IL&FS.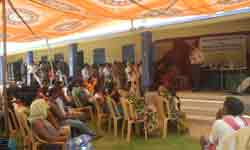 After two days of consultative meetings in periphery villages and interaction with adolescent girls and key stakeholders, it was broadly agreed upon between OPGC and IL&FS that the CSR unit of OPGC will interact with the parents of the girls willing to take SMO training and avail job opportunity outside the state. With consent of parents, OPGC will facilitate the visit of a selected girls and their parents to IL&FS's Rourkela centre on 24th of this month. Based on these two days' inputs, IL&FS will prepare a detail proposal and submit the same to OPGC officials within 15 days. The proposal will include the financial implication and modalities of collaboration. Both OPGC and IL&FS agreed to create a pilot batch of 25-30 boys & girls who will be provided with placement-linked training in various courses. The trainees will be preferably selected from the land affected families or from periphery villages of ITPS. The consultative meetings were arranged and facilitated by the members of CSR team including Dr. Dillip Kumar Sebak, Madhumita Prasad, Manbodh Pradhan and Parbinder Singh.