Bhubaneswar: Dt. 11.07.2013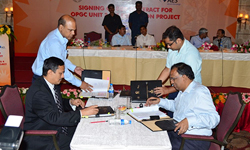 OPGC expansion project of 2x660 MW thermal power plant (Units 3&4) including development of captive coal mine and railway transportation system crossed yet another milestone today with award of the contract for the Balance of Plant (ancillary and peripheral plants to the Main Plant) in favour of BGR Energy Systems Ltd.

The contract was executed today by the MD OPGC Mr. Venkatachalam Kuppusami and Mr. A Swaminathan , Director- Sales and Marketing of BGR Energy Systems Ltd. in a signing ceremony formally organised at Bhubaneswar. The signing of the contract took place in the august presence of the hon'ble minister of Energy and I&PR Sj. Arun Kumar Sahoo, Chief Secretary Sj. J.K.Mohapatra, Secretary Energy Sj. P.K. Jena, AES country manager Sj. A.S.Rao, BGR Project Director Sj K Chandrasekhar and other dignitaries of the state.

The contract awarded today is worth Rs 1573 Crore which comprises of supply erection and commissioning of the Balance of Plant of the proposed Unit 3&4.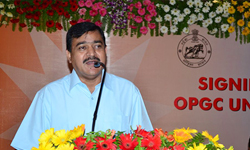 It may be worth mentioning here that on 27th April 2013 OPGC had awarded the contract of supply and erection of the Main Plant (Boiler, Turbine and Generator) of the proposed Units 3&4 to BHEL at a contract value of Rs.4051Crores.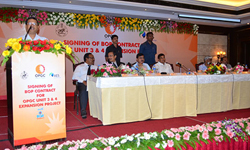 The OPGC expansion project which secured financial tie-up in Nov.2012 has been making steady progress and with the award of the above contract it is poised to go into the construction phase. The plant is expected to achieve commercial operation in the 12th plan period.

OPGC which is a 51:49 joint venture between Govt. of Odisha and AES Corp USA , at present, runs 2x210 MW coal based thermal power plant at Banharpali in the district of Jharsuguda which having registered a PLF of 86.48% for the FY 2012-13 ranks first among the state run utilities in the country.